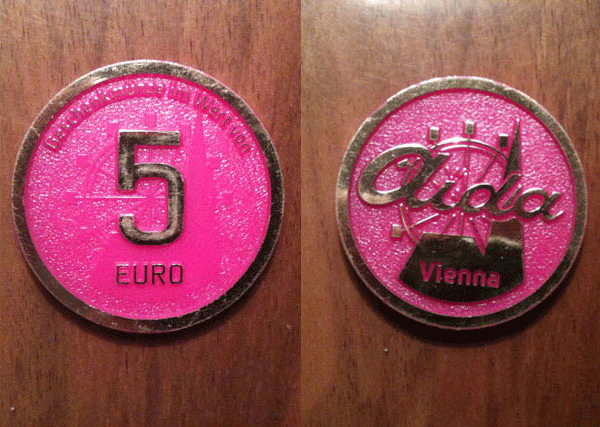 ... some time ago I found the

PERFECT Vienna souvenir

- a five euro token for the

Viennese pastry chain Aida

, complete with St Stephen's church, the giant wheel, pinkness and gold. Juxtaposing that with a selection of

vintage postcards from Paris

, and that's all you need for a clear-cut case of PARISVIENNE essence ... il y a quelque temps j'ai trouvé

le souvenir viennois parfait

: un bon de cinq euros pour la chaîne de pâtisseries

AIDA

, avec l'église de St Stéphane et tout et rose avec des détails dorés, trop kitsch ! Ou, pour le dire avec Susan Sontag, du

CAMP exemplaire

. Si on combine cela avec de vieilles cartes postales de Paris que j'ai trouvées sur un marché aux puces à Vienne, c'est un

cas idéal pour ParisVienne

, n'est-ce pas ? ...

Parigi - Vienna

, il legame s'impone per questo blog, ne è il motore per così dire, e siccome ho trovato qualche tempo fa il souvenir perfetto di Vienna, cioè il

buono di cinque euro

della catena di pasticcerie

AIDA

con il duomo di

Santo Stefano

, la ruota gigante in fucsia e delle cartoline anziane su un mercato delle pulci, eccovi tutti e due ...